.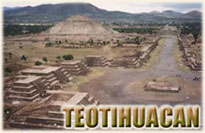 Teotihuacán is the spiritual home of the Toltecs. It is a pyramid and temple complex built thousands of years ago by a society of artists and spiritual seekers as the place where "humans awake and remember their divinity." The power of the science, art, and spiritual awareness created there influenced cultures as distant as New Mexico to the north, and the Aztecs and Mayans in the south of Mexico. Teo is a living being, ready to welcome you and hold you in the Light of your truth. The journey there leads you from awareness, to transformation, to Heaven on Earth. You will return home with experiences, tools, and new friends to support your continuing growth.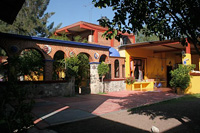 Teotihuacán is located in central Mexico, one hour north of Mexico City. We will stay at "The Dreaming House", a wonderful hotel run by warm and wonderful people.
Every day of our stay there together, we walk into the pyramid complex and immerse ourselves in the vital energy and ceremonies that create in us a new dream of Personal Freedom. . . the freedom to be ourselves, with love and acceptance for all of Creation. In the evenings, discussion and teaching, and socializing brings us closer together as one living being, and strengthens our intent for the next day's journey.
For a photo tour of Teotihuacán, visit the Joydancer Photo Album. This journey is also described in Beyond Fear -- a Toltec Guide to Freedom and Joy, the Teachings of Miguel Ruiz, M.D. as recorded by Mary Carroll Nelson, AND, The Everything Toltec Wisdom Book by Allan Hardman (Chapter 21).
The price of $1,195 for the week includes all scheduled group ground transportation to and from the Mexico City airport, hotel accommodations (double occupancy), breakfast and dinner, and all teachings. Not included is your airfare to Mexico City, and, of course, souvenir shopping. I'll buy the hot chocolate. A deposit of $150 holds your place, non-refundable 30 days before departure.
PLEASE MAKE PLANS TO JOIN ME FOR THIS LIFE CHANGING JOURNEY!
Testimonials
"Thank you Allan for being my teacher and my friend. The journey to Teotihuacan and Tepoztlán was so amazing. You are truly a Master! Much love and gratitude for making this journey possible." Kim L., Sacramento, CA.

"The whole trip to Teotihuacán and Tepoztlán was amazing, from start to finish. Beauty, power, love, connection, affection, support, gourmet food, sunshine, emotional release, honesty. I feel so blessed and grateful." Vanita L., Reno, NV

"What is truly amazing working with Allan how simple it is to step into who you really are in his presence, because his devotion to your particular healing is so attentive and complete. He has nothing to prove and he is not afraid of anything. This experience with him in Teotihuacan was such a leap into faith in life, into the love that I am...what could possibly hold you back from giving it to yourself?" Marianne D.P., V

"Allan's "Dancing On the Edge of the Dream" trip last fall was a profound, life-altering experience for me. Very powerful inward journey, and beautiful development of group dynamic and depth. I'm greatly looking forward to going again this fall." Gordon W., OH
If you are curious about what other people have experienced on a "Joydancer Journey of the Spirit,"

read more

Testimonials here

.

Tepoztlán and the Pyramid of Tepozteco
"The legendary birthplace of Quetzoalcoatl"
An optional extension to Allan's annual Teotihuacán Journey

October, 2013
A message from Allan Hardman ...
"I am very excited about having discovered Tepoztlán and the Aztec Pyramid of Tepozteco! For many years I have wanted a chance to visit Cuernavaca, called "The City of Eternal Spring."

"I was advised by friends in Mexico City to visit Tepoztlán instead. And what a delight! This is a small Mexican town, with a traditional "mercado" (market place) to wander through and absorb the rich Mexican culture, and an Aztec pyramid high on top of the cliffs that surround it. New age stores and services are mixed with the traditional local shops and artisans displaying their crafts (I am told that more "Orange Plasma Ships" have been seen here than anywhere else). What a place!
"We have chosen the Posada de Tepozteco as our hotel home in Tepoztlán. It sits above town, looking out across the green valley and striking cliffs. Beautiful. Its manicured gardens, romantic Spanish architecture, and gourmet food inspire the soul. If you look closely, you can see the pyramid way up there ... on top of that cliff.
"Our work here will be to deepen the experiences from Teotihuacán, as well as to play and enjoy ourselves. We will gather for morning and evening classes and powerful individual processes, and leave the afternoon open for exploring the wonderful town— and to engage in serious shopping as needed.
"On our last full day there, we will climb through the Seven Gates of Ascension to the Pyramid of Tepozteco. This transcendent experience is the perfect finale to this two-part "Joydancer Journey of the Spirit." Your spirit will soar with the eagles from this commanding summit.
"I hope you will join us!"


"Tepoztlán is beautiful. The morning and evening sessions with Allan are divine, small, private, deeply nourishing. It is heaven on earth there. You will love it."
-Kristy T,
This journey to Tepoztlán is intended as an optional continuation of Allan's October trip to Teotihuacan. You are also invited if you have been to Teo with Allan or another Toltec teacher during the last year, or are an advanced apprentice with don Allan. Space is limited for this part of the journey, so please indicate your intention early.
See all the Tepoztlán photos here.

| | |
| --- | --- |
| Tepoztlán is 90 minutes from Mexico City. We will leave Teotihuacan, go to the airport for those returning home, and continue on to Tepoztlán for this extension. We return to Mexico City airport, for your departure home. The cost is $1,095, which includes scheduled ground transportation to and from Teotihuacan or Mexico City airport, deluxe hotel accommodations (double occupancy), and all teachings. (Call the Joydancer office about a single supplement). Price does not include meals, gratuities, or shopping. A deposit of $150 holds your place -- non-refundable 30 days prior to departure. See air fare and travel agent details in the box below. | |
A Powerful Journey in Two Worlds...
The Physical World of Pyramids, Sun, and Wonder,
And a Spiritual World of Opening and Awakening.
Day Three in Teotihuacán, Mexico with Allan
The third day of the journey culminates in a moving ceremony
at the plaza of the Pyramid of the Moon
The Final Day in Teotihuacán, Mexico with Allan
Climbing the Pyramid of the Sun at Teotihuacán, Mexico,
for a ceremony on the final day of a four-day Joydancer journey of the spirit.